If I told you right now you could have a free trip to Spain, where would you go? Madrid is the famous capital, an international city. Barcelona is an artist's dream with Antoni Gaudi's unique and impressive architecture. Ibiza is a bachelor's paradise where the party never stops. Would Andalucia be on your list?
Andalucia, one of the 17 autonomous communities of Spain, consists of eight provinces. Andalucia is famous for 300+ days of sun per year, year-round mild temperatures, beautiful beaches, delicious wine, Andalusian horses, and laid back mentality. It wasn't high on my radar when I decided to move to Spain. I wanted to live in Madrid, Ibiza, and the Canary Islands.
When I found out Southern Spain would be my new home, I didn't know anything about it. When I told my parents that Andalucia would be my new home, my dad said I was lucky because that's where wild horses run on the beach. Though it wasn't completely accurate, it's also not far from the truth. There are beautiful beaches and beautiful horses and I'm sure no one would mind if horses did run free on the beach, but unfortunately I never saw it. However, I wouldn't change my placement for the world. Now, my goal is to encourage others to visit and see the beauty Andalucia has to offer!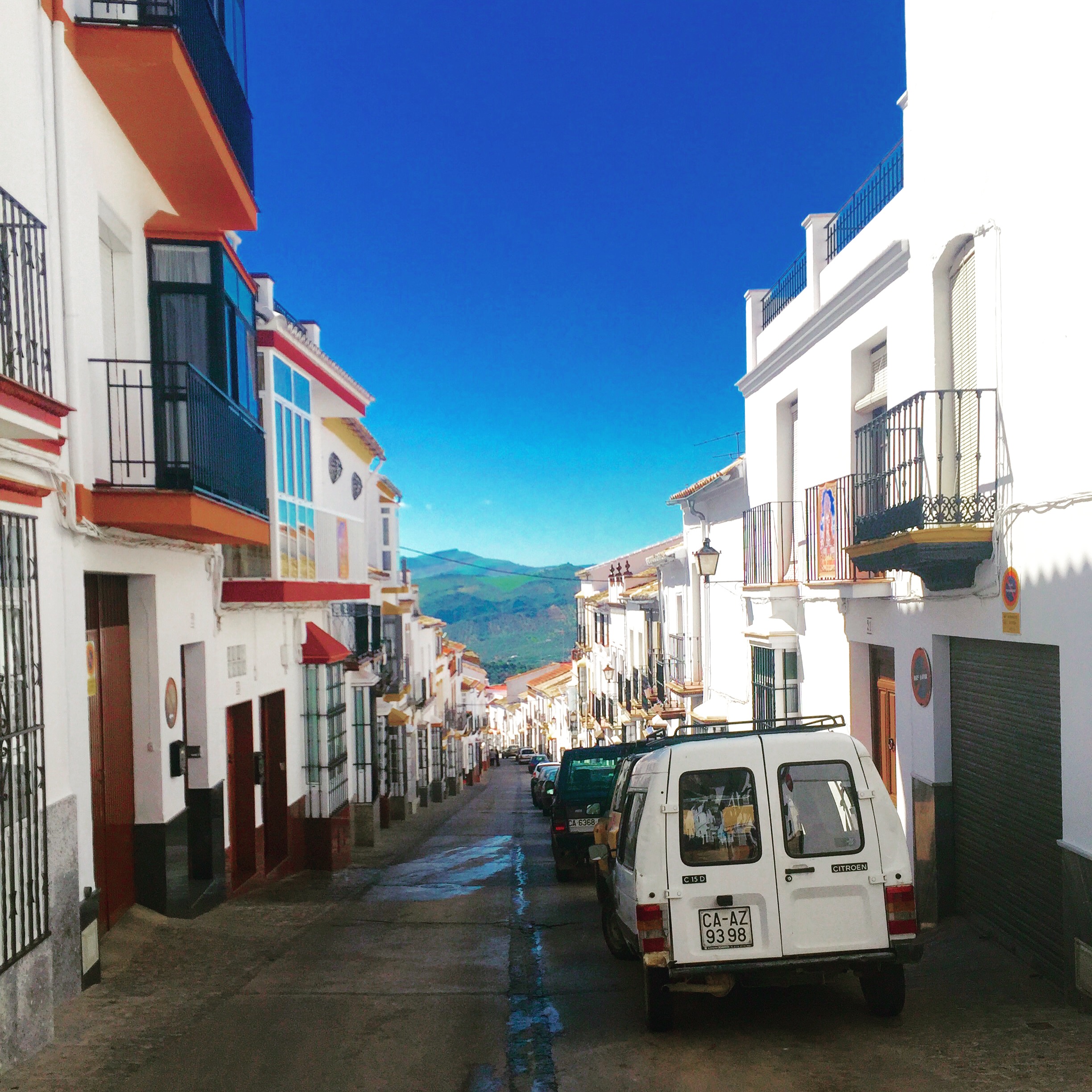 13 Reasons to Visit Andalucia
Southern Spain is a magical land mostly untouched by tourism. There's more to do in all of Spain than you could do even in a year (trust me, I tried). Here are 13 reasons why you should plan a trip that focuses solely on Southern Spain.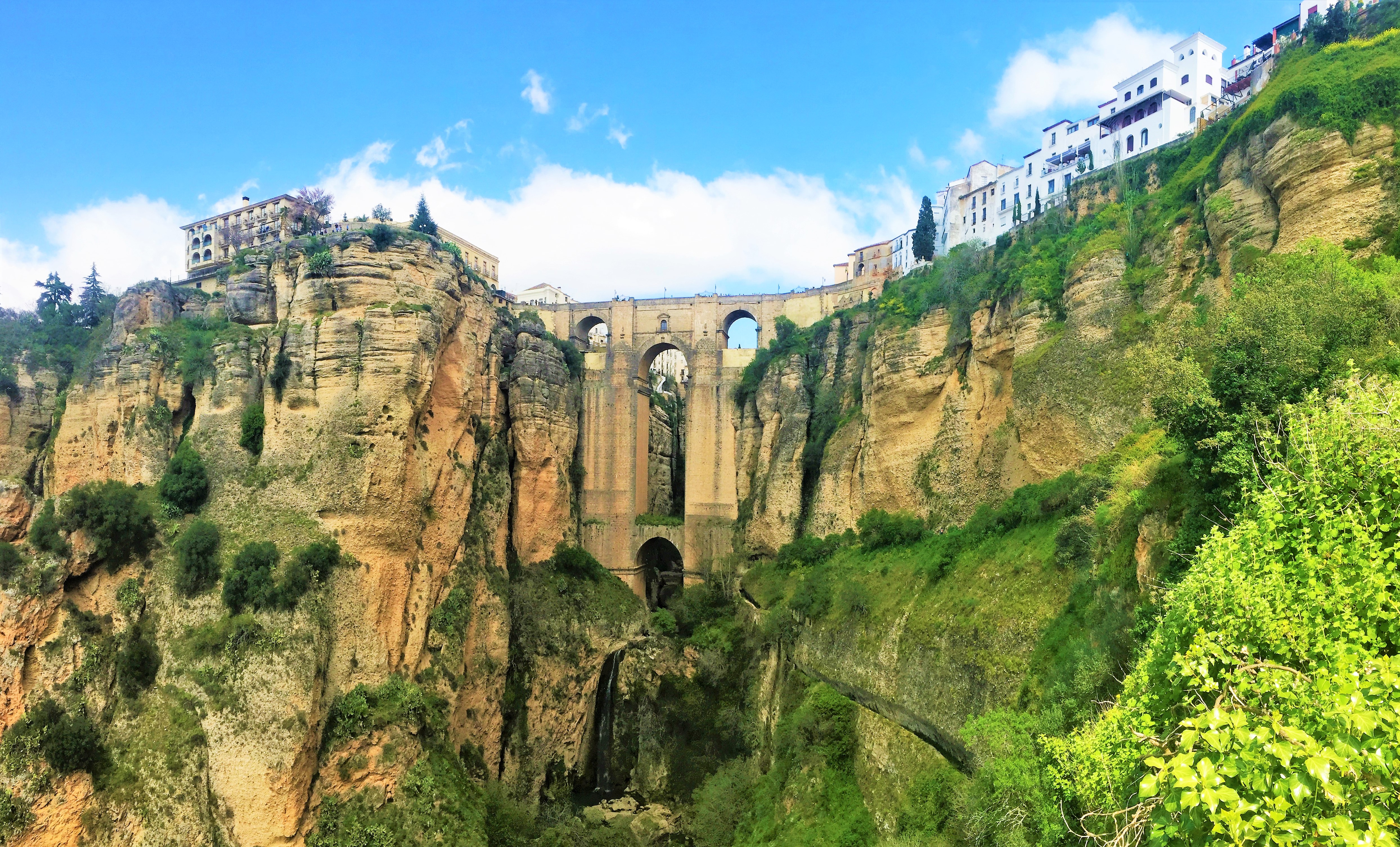 Puente Nuevo, Ronda
Ronda was built over the Guadalevín River, which is now mostly dried up. The Puente Nuevo (New Bridge, built in 1793) crosses the gorge and connects the two halves of the town. You can hike down to the bottom of the valley and even rock climb the cliffs. Houses and hotels are built right along the cliff's edge so when you look down, it's a straight drop to the bottom. There are also outside restaurants with outside seating built onto the cliffs' edges.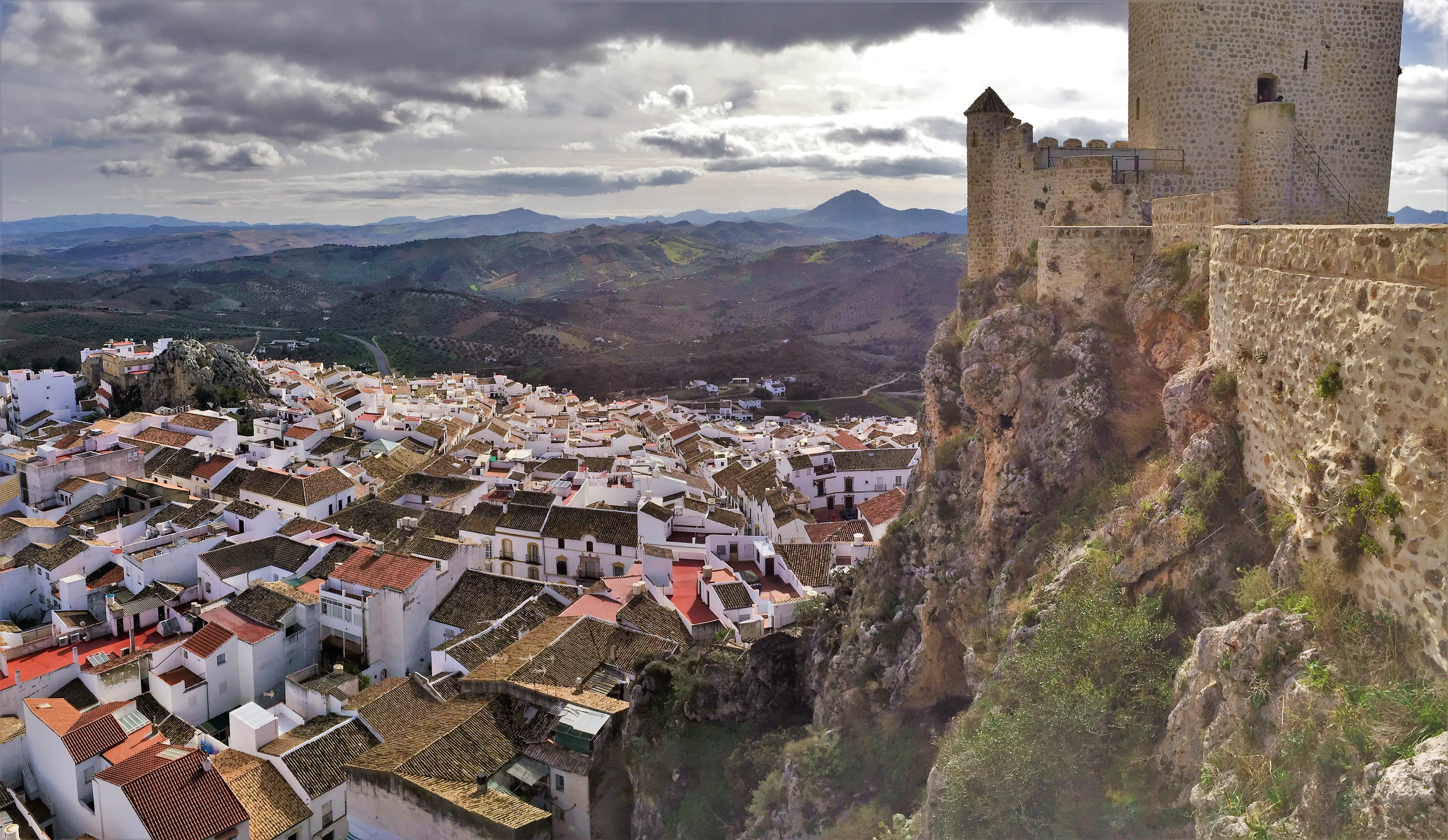 White Villages of Cadiz
The White Village route is a famous drive in the province of Cadiz. Southern Spain's summers can get as hot as 45°C (113°F). To battle the heat, people built their homes with white cement, which kept the house cool and reflected the hot sunlight. The villages haven't changed much since the days of Moorish rule and almost every village in Cadiz and many in Malaga are still white towns dotting rolling green hills. It's a beautifully picturesque drive!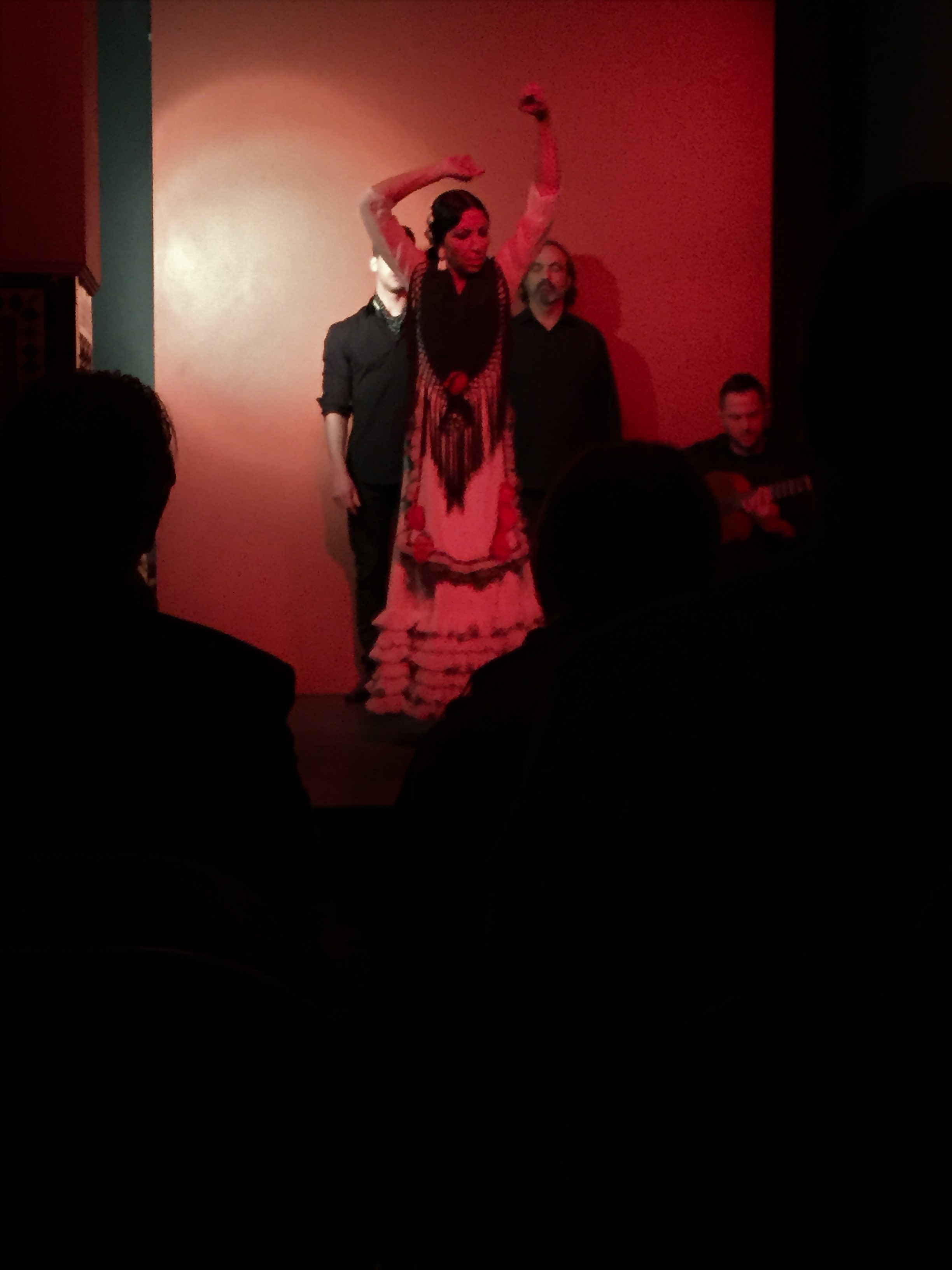 Flamenco
Spend a few hours eating, drinking, and watching the typical dance of the country or just catch a late night show with a few drinks. Flamenco is a type of art originating in Southern Spain. It includes a dancer, a guitar player, a singer, and a lot of encouragement by hand clapping, stomping, and shouts. It's loud, colorful, expressive, and beautiful. Flamenco dates back to the early 1400's, when Indian gypsies, moors, and Jews banded together to keep their cultural customs alive through music and dance.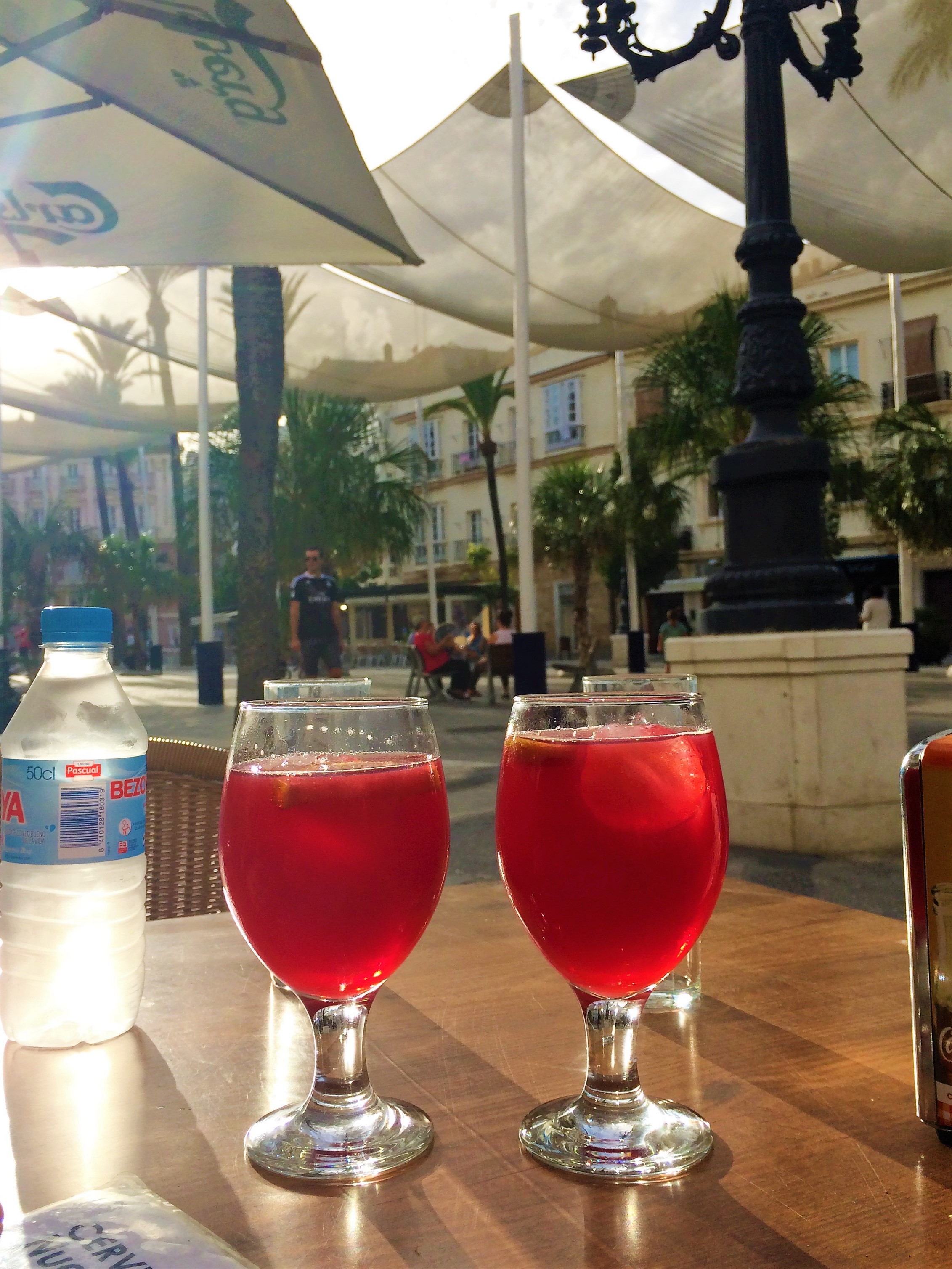 Spanish Wine
When you think of good wine, does Spain cross your mind? Sherry is a type of wine made from grapes that grow near Jerez de la Frontera, just north of the capital city of Cadiz. Nothing like going straight to the source for good local wine. Little tip: combine some lemon soda with red wine to make a tinto de verano (summer wine). It's a Spanish specialty!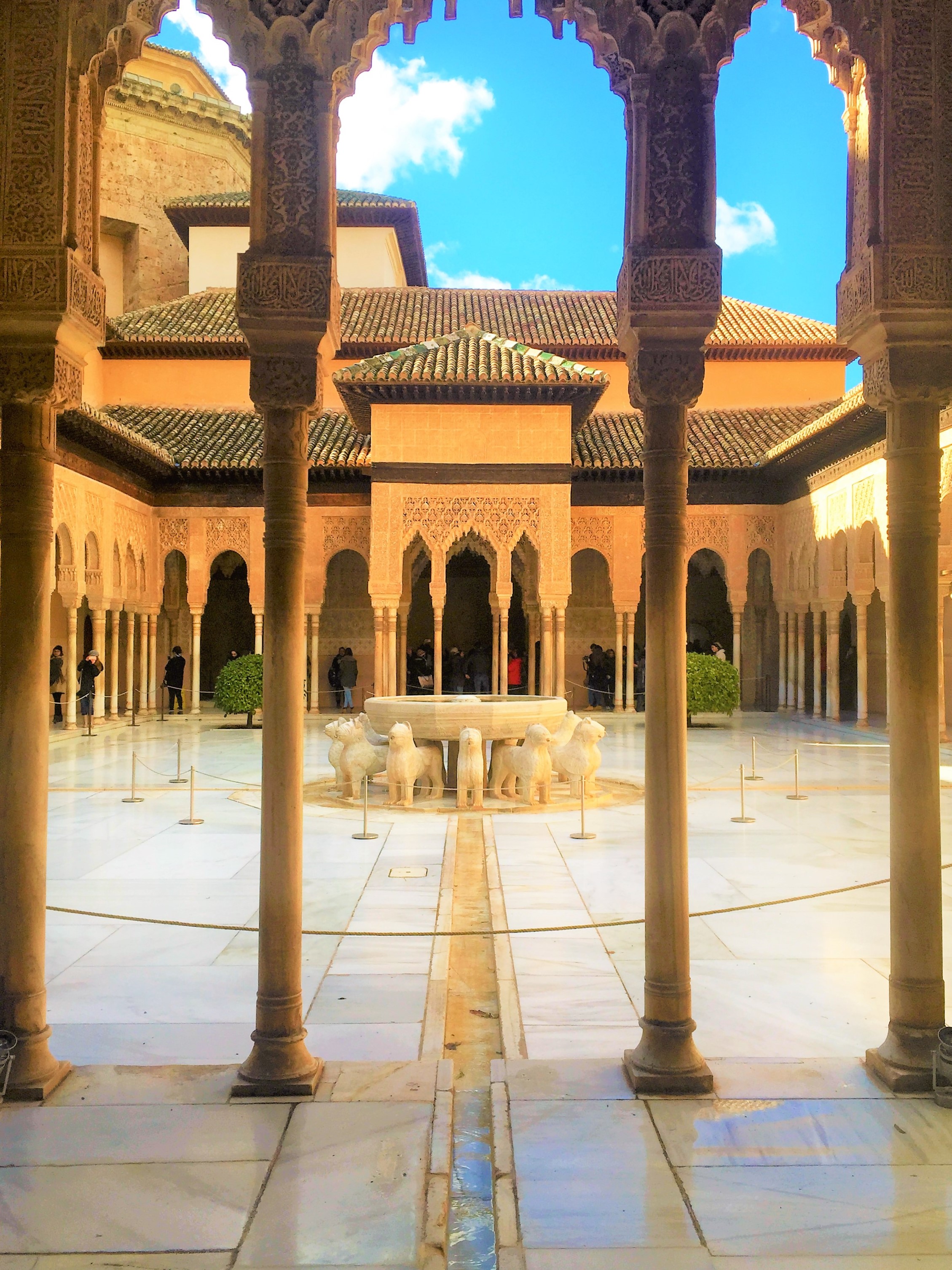 La Alhambra
Just two hours from the beaches of Malaga is the capital city of Granada. Granada is famous for offering free tapas with every drink you buy. A trip to Granada isn't complete without visiting La Alhambra, the beautiful moorish palace of King Ferdinand and Queen Isabel. Make sure to buy your tickets in advance, slots fill up quick! Don't miss el Patio de los Leones (the Court of the Lions) in the Nasrid Dynasty Palace. Water is channeled through the mouths of 12 lions in this marble fountain, representing Islamic paradise.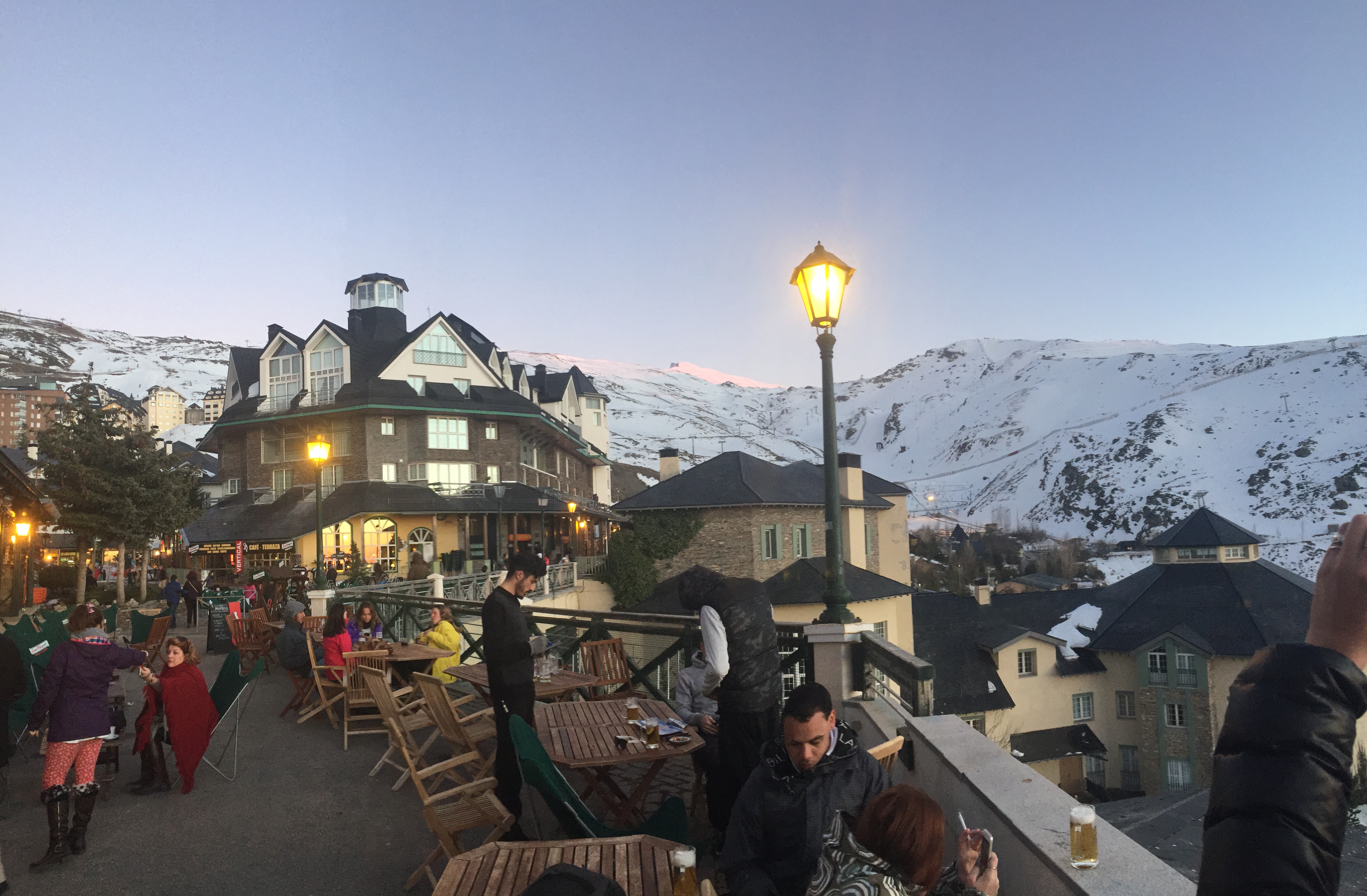 Sierra Nevadas
While you're in Granada, take a trip up to the Sierra Nevada mountains, only 30 minutes from Granada city. Pradollano is the resort town where you can sit outside and have a cafe con leche and a tapa. Rent some ski equipment or a snowboard and hit the slopes! The snowy season runs from October to May. The Sierra Nevadas are the highest point in Spain and third highest point in Europe! In the right month, it's wild to think you can go to the beach in Malaga in the morning and go skiing in Granada in the afternoon.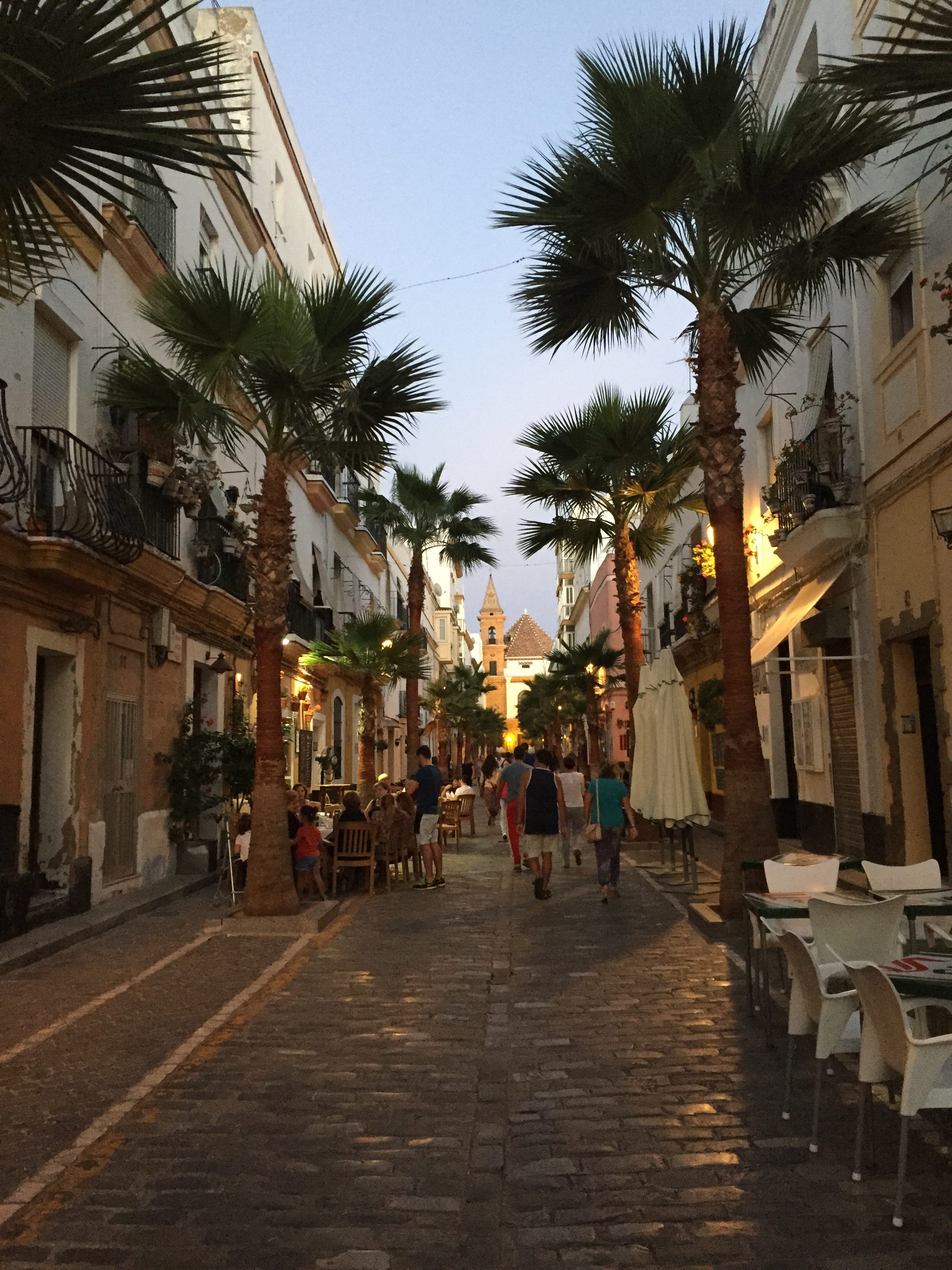 Cadiz
Cadiz is an old port city on a strip of land surrounded by ocean. It's home to the Spanish Navy, the Cadiz Cathedral, and a filming location for the James Bond movie "Die Another Day." Cadiz is the second most popular party spot (after the Canary Islands) for Carnaval in February with street performances, celebrity concerts, and costume parties in the streets. Old Cadiz has cobblestone streets, old architecture, and picturesque plazas. New Cadiz has a Miami Beach feel with high rise hotels, beach bars, and a main strip.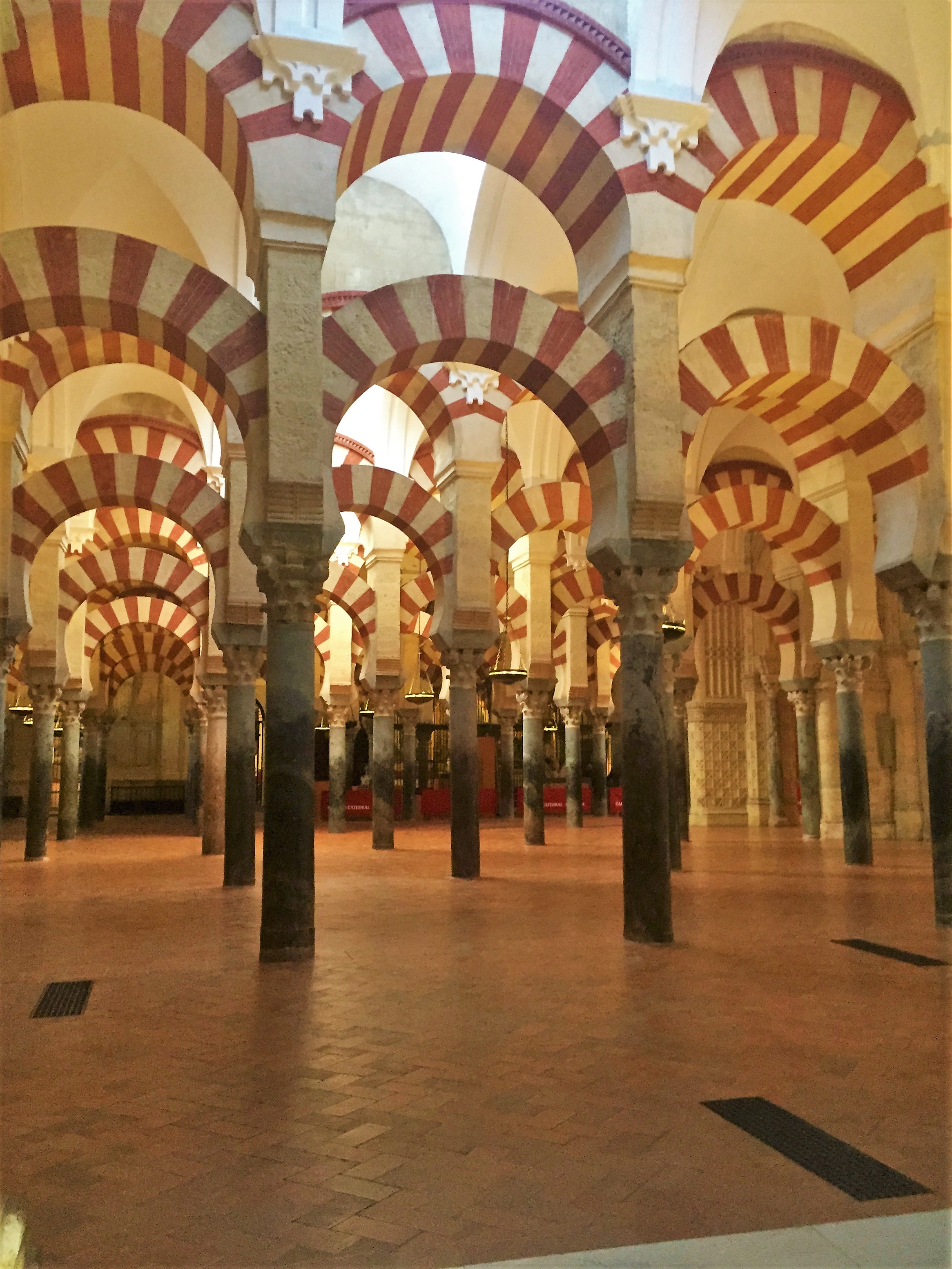 La Mezquita, Cordoba
In the early 700's a Muslim army captured Córdoba, although most of Spain was predominantly Catholic at the time. The Muslims and Catholics lived side by side peacefully through Muslim rule and after. La Mezquita, meaning The Mosque, is split down the middle: half is Catholic and the other half is Muslim. The Catholics and Muslims lived together in harmony for years. It's wonderful to see everyone living together peacefully!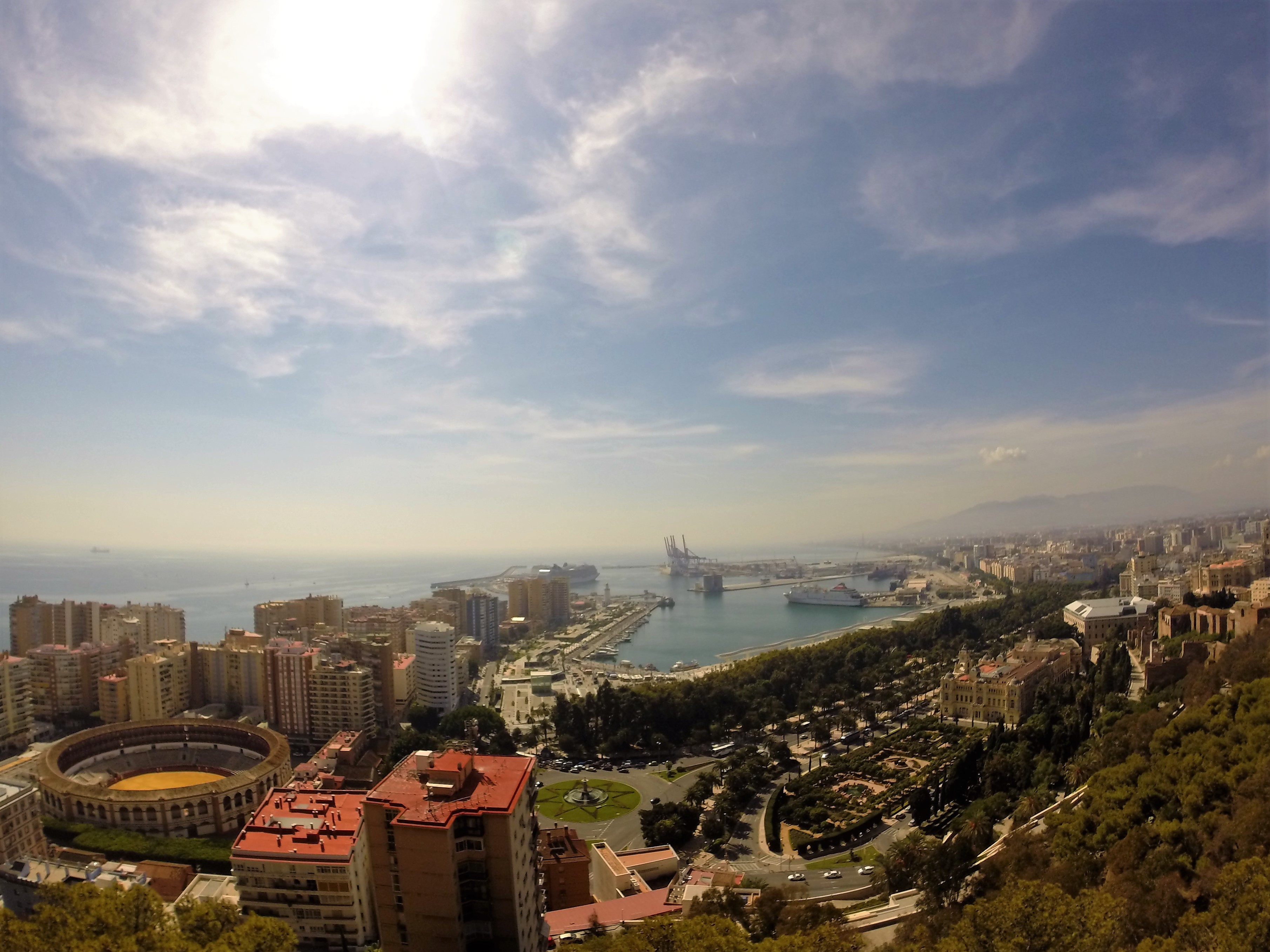 Malaga
Have you ever taken a Mediterranean cruise? If so, you've probably visited Malaga. It's one of the most popular port cities and a playground for the rich and famous! If you hang around long enough you can usually spot a celebrity. Downtown Malaga is a pedestrian-only maze of cobblestone walkways where you can grab a drink, eat a tapa, or shop til you drop. Then climb the medieval moorish castle for amazing views of the entire city!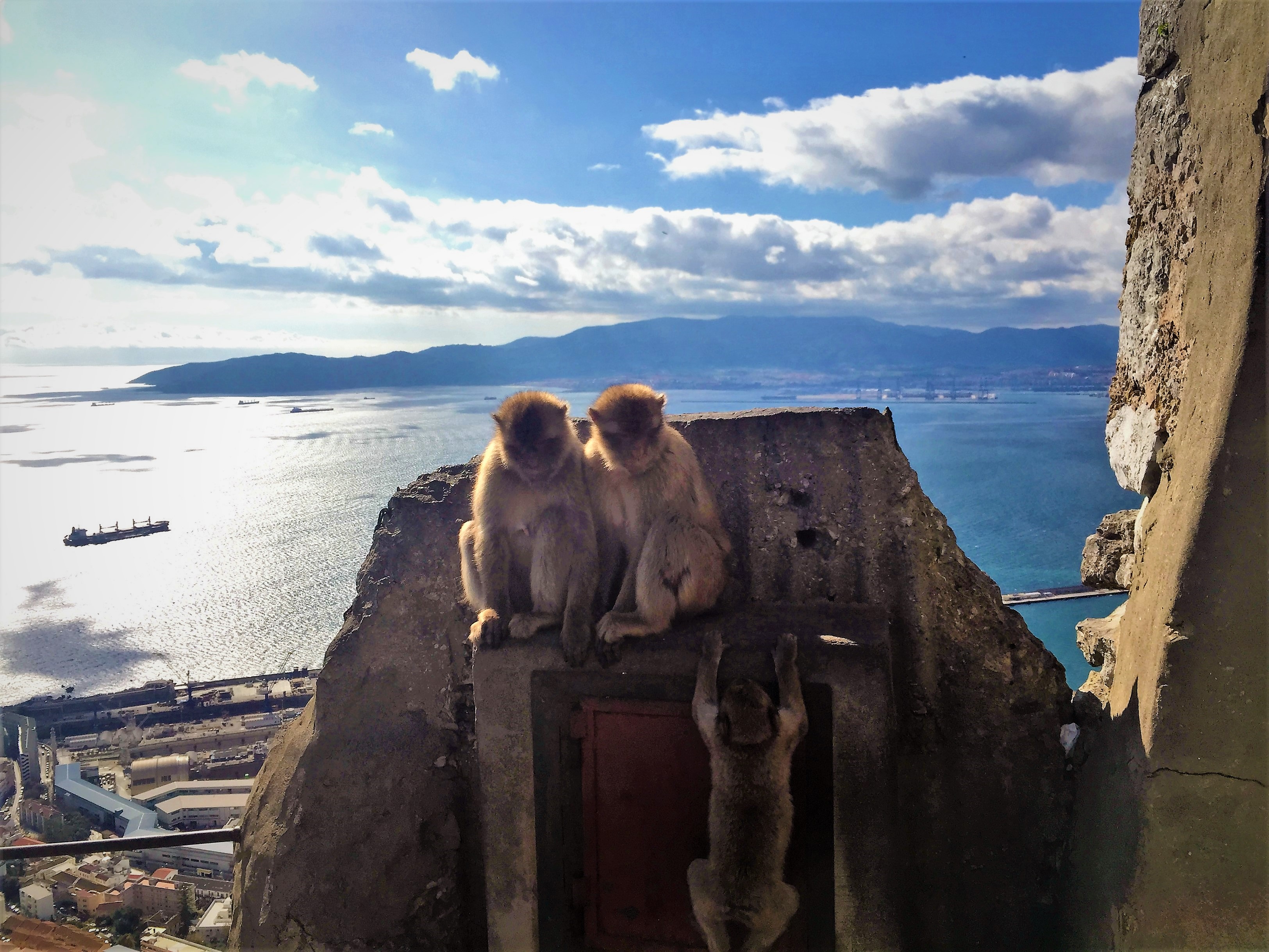 Rock of Gibraltar
If you're visiting Spain, walk across the British border into
Gibraltar
. Then, take advantage of the only place in the world you can walk across an airport. Inside the Rock is St. Michael's Cave with light and music shows. See where Hercules pushed Europe and Africa apart. The Great Siege Tunnels are perfect for history buffs. At the top live the African Barbary Apes, a protected species in Gibraltar. Legend has it that as long as Barbary Apes live at the top of the Rock of Gibraltar, Gibraltar will be under British rule.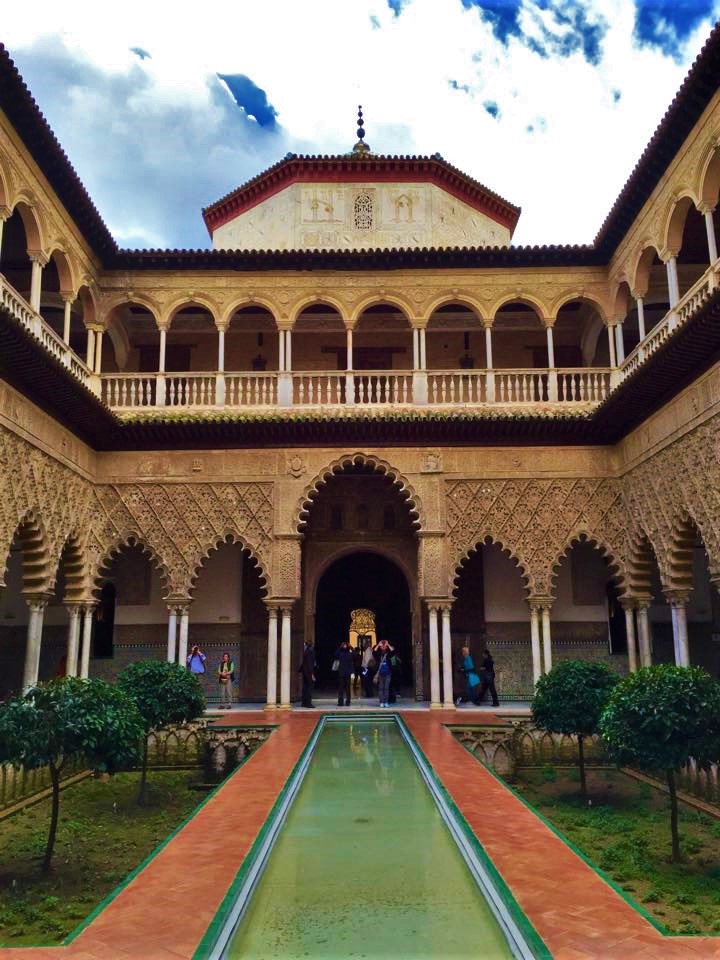 Real Alcazar, Sevilla
Sevilla
was voted the most romantic city in Spain. Share a horse drawn carriage with your love at dusk. Visit a romantic wine or tapa bar. Watch a seductive flamenco show. Or rent a rowboat to paddle around the beautiful Plaza de Espana. The Real Alcazar was the summer palace of kings and queens and is open for tours. The palace itself has beautiful moorish and Christian influences and you could get lost for hours in the gardens. Game of Thrones even filmed a few scenes in the beautiful gardens of the Real Alcazar of Sevilla!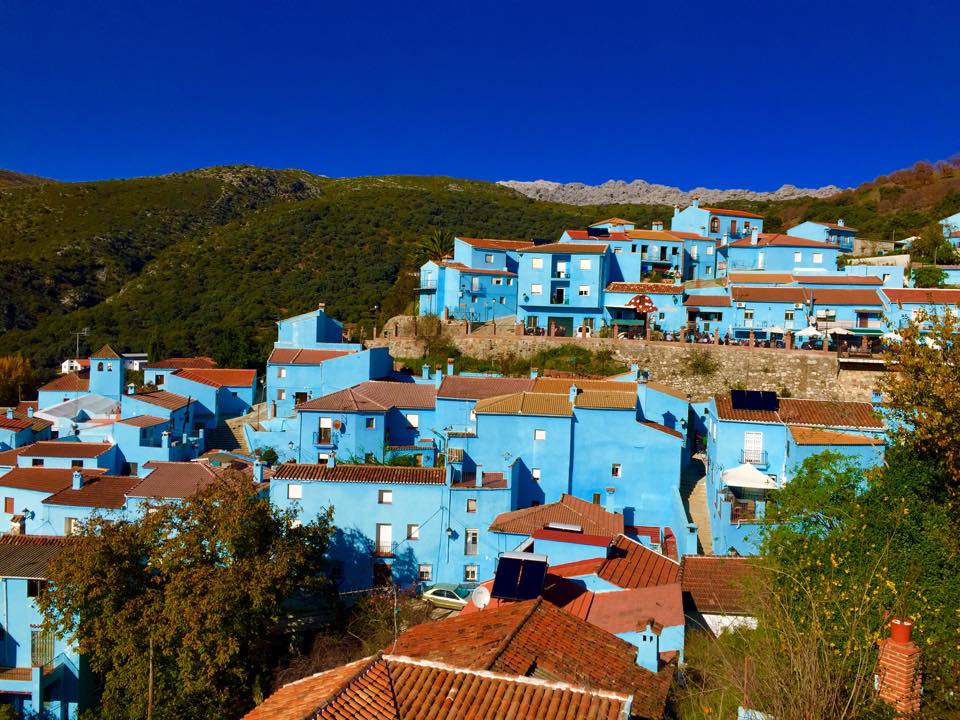 Smurfville
There's a little village deep in the mountains of Andalucia called
Juzcar
. When The Smurfs movie came out in 2011, Hollywood hosted a premier party in Juzcar and painted
everything
blue: the Town Hall, church, houses, and cemetery. They offered to repaint all the buildings their original white within 5 years, but the little out-of-the-way rural town benefited from all the tourists coming to see "Smurf Town" and decided to keep the town blue to increase tourism.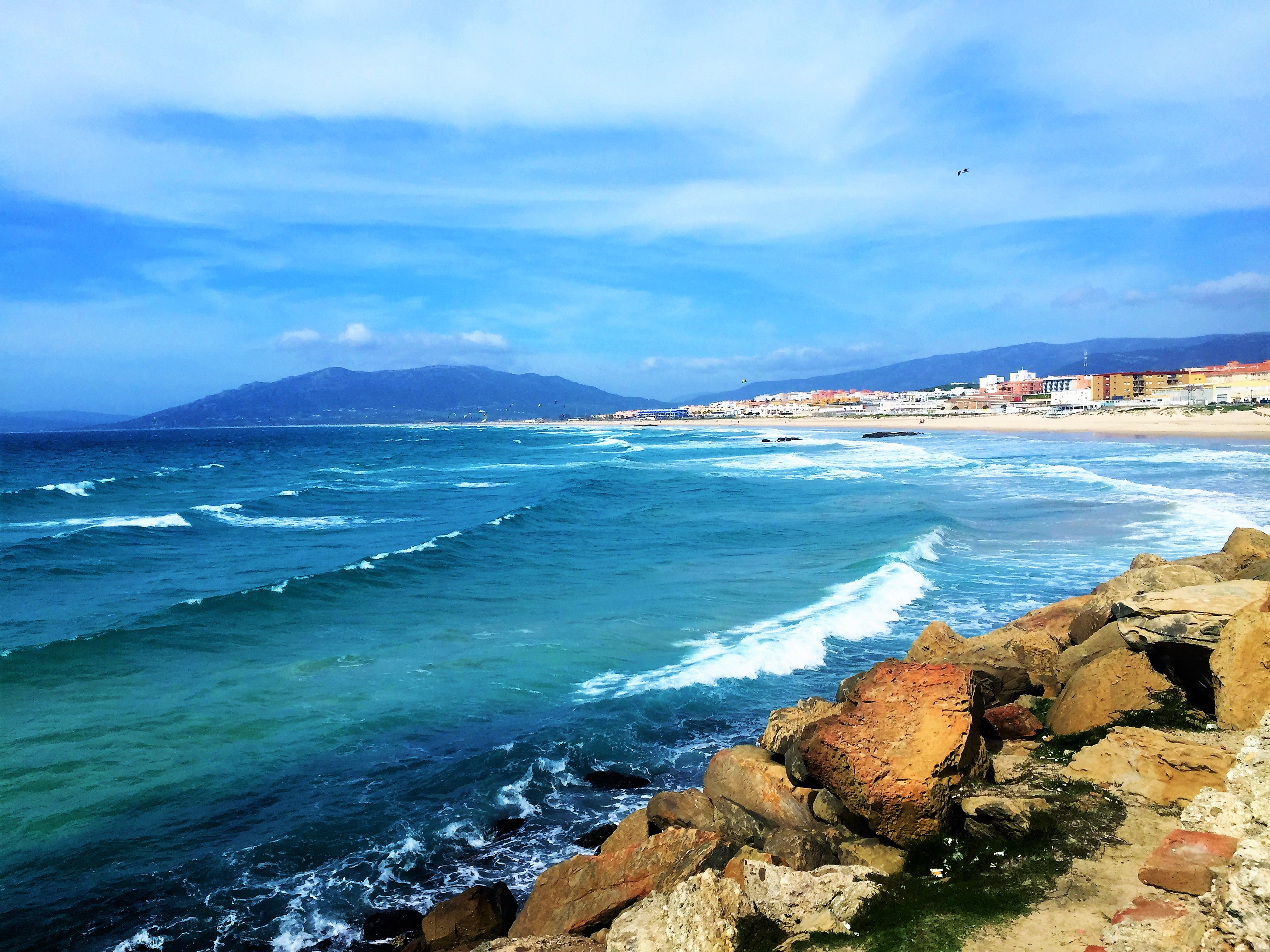 Tarifa
How low can you go? At the southernmost point of Spain you'll find
Tarifa
. Tarifa divides the Atlantic Ocean and Mediterranean Sea, which means this is the area to go if you like lots of wind and fighting currents. Surf boarders, windsurfers, kitesurfers, hang gliders, divers, and pontoon boaters are drawn to Tarifa. Tarifa is the furthest south you can go in all of Europe. It's also as close as you can get to Africa on dry land. There are ferry services to Morocco, which takes about 35 minutes on the high speed ferry.
Have you been to Spain? Is Andalucia on your list of places to visit? What has been your best experience in Southern Spain? Tell me about your best moment in the comments below!
Like this post? Share it on Pinterest!
P.S. You might also like 11 Things in Spain That Aren't Common in the U.S. or 6 Unexpected and Surprising Things I Learned While Living in Spain